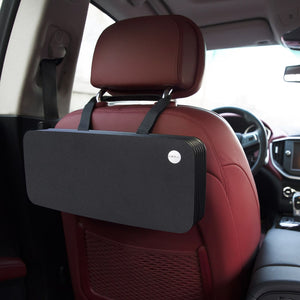 LIFA air LAC50 & LAC52 - Car Air Purifiers
Sale price Price $ 182.00 Regular price
50

m3/h

6

m2

6

min

CADR rate
Max area
Time to purify
Ride Clean with LAC-Car Air Purifier
Being inside a car doesn't mean you or your family is safe from pollutants. On the contrary, studies show that people in cars are exposed to more harmful gases and pollutants than other road users. LIFA air LAC50 and LAC52 are smart car air purifiers that remove carbon dioxide as well as organic carcinogenic compounds like benzene, toluene, and formaldehyde from the air you breathe.
Car air purifier that doesn't just mask the odor
The market is full of air purifiers for cars, some the size of a thumb that claim to clean the air. However, most of these devices just mask odors and use fragrances to make the air more pleasant to breathe, but don't actually clean the air leaving you and your kids vulnerable to organic compounds and roadside pollutants.
LIFA air LAC 50 and LAC52 purifiers have a high quality laser type PM2.5-sensor, NDIR carbon dioxide sensor (with LAC52), high capacity H11-grade filter and an effective fan that will analyze the air quality in your car and quickly clear any pollutants.
Intelligent operation, longer filter life
The LIFA air LAC series purifiers consist of two parts. An intelligent control system shows the present air quality inside car and other useful information such as remaining filter life. The filter life is calculated according to actual air quality and volume of circulated air. The control system is plugged to your car cigarette lighter plug and is also equipped with two USB ports to charge your USB devices while driving.
The filter unit has two filter layers for particles like allergens, dust and bacteria and the second layer cleans gaseous contaminants and unpleasant odors. The purifier is safely positioned behind the front seat so it won't block the driver's view.
Clean your car air in minutes
The LAC series car air purifiers are fast to install on any car and you can enjoy cleaner air literally within minutes. The CADR (Clean Air Delivery Rate) of the purifier is a whopping 50 m³/h so your car is clean of pollutants within minutes from starting up the purifier. And due to the intelligent operation, the purifier will maintain excellent air quality with minimal power consumption and noise level.
Easy installation on driver's seatCleans car indoor air within minutesIntelligent control systemSensors:
NDIR carbon dioxide sensor (with LAC52)
High capacity H11-grade filterHigh efficiency:
Formaldehyde CADR: 7.7 m³/h
Sulfur dioxide CADR: 10 m³/h
Effective area:
3-6 m2
Size:
L x W x H 398 x 167 x 68 mm
Weight:
1.34kg
Warranty:
1 year