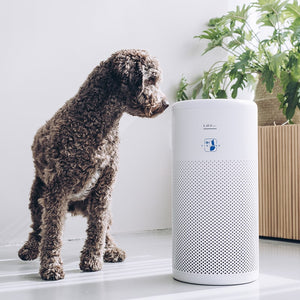 LIFA air LA300-Series Air Purifier
Sale price Price $ 469.00 Regular price
330

m3/h

39

m2

20

min

CADR rate
Max area
Time to purify
LIFA air LA300 series offers you the best in home air purification. Rigorously tested and thoughtfully designed, the LA300 series air purifiers work tirelessly to clean the air around you and your loved ones. The air pufirier has been designed to be safe around kids and pets and the design has been awarded with the prestigious iF design award and won an honorary mention in the Reddot awards in 2017.
Safer around kids and pets
The LA300 series units are designed to be used in children's rooms and bedrooms. The round design occupies less floor space than an A4 sized paper. The fan is neatly tucked away under a protective cover and the air purifier doesn't have any sharp edges for improved safety. The round edges serve also a functional purpose as the rim works as a smart touch control.
Smart air purification for your home
In addition to featuring smart touch controls, the LA333 model is also equipped with an air quality monitor unit that can give you detailed information about the air you and your family breathe. You can also use our LIFA air smartphone application to feed the data to your phone and control the unit remotely.
The smart controller in the monitor feeds current input also to the air pufirier and automatically adjusts the power of the purifier depending on the air quality. You will enjoy clean air at all times at the lowest possible energy and filter consumption.
NOTE: Smart functions and APP only available with LA333-model.
Silent but powerful
The design of the unit creates a 360° rotating air stream that efficiently cleans the air inside a 20m2 room in less than 10 minutes. Due to the rotating air flow, the LA300 series air purifiers are extremely silent at only 34-63 decibels. In addition to cleaning the air of PM2.5 and PM10 pollutants, the unit will also clean the air of allergens, formaldehyde and other toxic organic compounds.
Longer lasting purification
Instead of having to change the filters on a timed interval, LIFA air units monitor the actual pollutant levels and air flow to tell you when you should change your filter. On a normal basis, the HEPA filter will last 10-15 months and the carbon filter will require changing about every 20-30 months. Instead of asking you to unnecessarily change a fully functional filter, our device will actually tell you when it has processed enough contaminants and pollutants to warrant a change.
Specifications:
Cleans air of allergens, particle pollutants and gaseous compoundsEasy to install and useSafe around pets and kidsInnovative smart controlsSilent and space-savingFilters:
H12 HEPA + Gas absorbent panels (1kg)
Models:
LA352C (Manual operation) & LA333 (with smart monitor)
Monitor sensors:
Carbon dioxide
PM2.5 particles
TVOC (Volatile Organic Compounds)
Relative humidity
Temperature
Power consumption:
1-45W
Size:
 250 mm Ø, Height 505 mm
Purification capacity:
Particle CADR 330 m³/h (Clean Air Delivery Rate)
Formeldahyde CADR 
140 m³/h
PM2.5 removal 99.99 % (30 min @ 30 m³)
Filter change interval
HEPA 10-15 months depending on use
Carbon filter 20-30 months depending on use
Warranty:
1 year